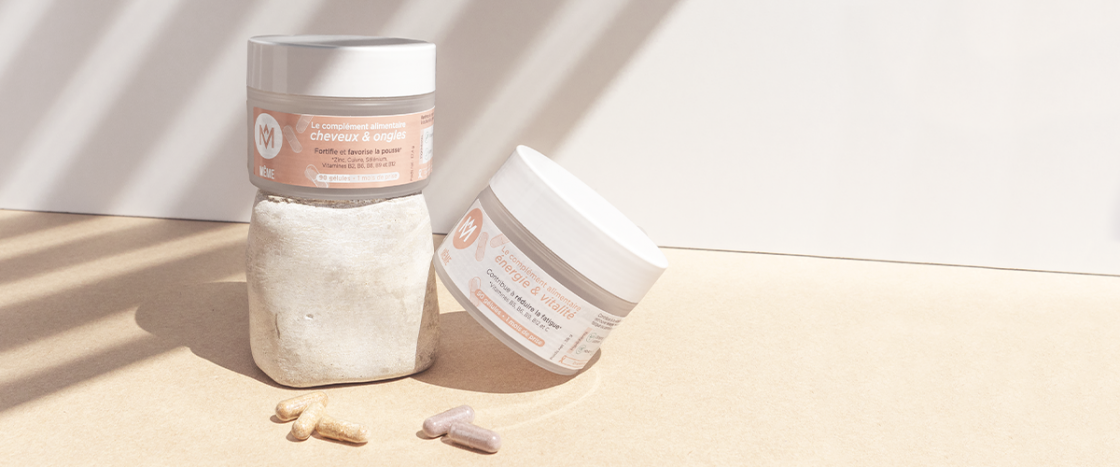 Food supplements
Because taking care of yourself starts from the inside, MÊME offers you food supplements adapted to your needs to accompany you after your cancer treatments, or simply when you feel the need. In addition to a healthy lifestyle that suits your body and your needs, food supplements can be a precious help to give you a little boost when needed. From hair and nail supplements to support hair growth and strengthen your nails after chemotherapy, to energy and vitality supplements to help you fight fatigue during your convalescence, for each of your needs, we have a food supplement to help you.
Rigorously selected
ingredients
Clinically tested
on people on cancer treatment
Safe and healthy products
made in France
Created in collaboration
with our clients
Strengthens / Supports growth
Food supplements to help you after cancer
The hair and nail food supplement
You have just finished your treatments but your hair and nails that are growing back are not as strong as they used to be? In addition to a varied and balanced diet and your usual treatments, the nail and hair food supplement is there to give a boost to these regrowths. Recommended as a 3-month course of treatment, waiting one month after the end of all your treatments to start, it is a precious ally to ensure that your hair grows back nicely and your nails are stronger.
Developed for the needs of people who have had cancer treatments, it can also be taken at the change of season, after a pregnancy, or simply after a few "bad hair days"... in short, whenever YOU feel like it!
The energy and vitality food supplement
After a period of illness, your body, your organism and especially your head need to readjust, to get back into a "normal" life that sometimes doesn't seem that normal. The body is tired, the mind is fluctuating... In short, you need to be patient and kind to yourself to accept these emotions and changes. And if you need a little help to get your energy back, don't hesitate to start a cure of energy and vitality food supplements, designed to accompany you during your convalescence. And even for those who have not undergone cancer treatment, you can be subject to minor slumps that require a little ally like our food supplement capsules!
Vegan, gluten-free, GMO-free food supplements, compatible with all diets and easy to swallow!
Formulated with plants and vitamins, in a capsule of plant origin, the food supplements are compatible with all diets. They are vegetarian, vegan, gluten-free, GMO-free, no added sugars, no phyto-oestrogens, and they are kosher and halal.
Food supplements in capsules or gummies?
We hesitated for a long time between offering you "gummies" type dietary supplements or capsules which can look a bit like medicine. In the end, because it is the format that is most effective and most concentrated in active ingredients useful to your body for the targeted needs, we opted for small capsules, which are very easy to swallow even if you have difficulty swallowing.
In addition, if this format is really difficult for you to swallow, you can simply open them and dilute the powder contained in the capsules in a little water, fruit juice or a cold or warm drink in order to take advantage of all their active ingredients and their benefits without any difficulty!
Simple food "supplements"!
Food supplements are aptly named: they are there to act and provide additional help, as a "complement" to a healthy lifestyle with good sleep, a varied and nutrient-rich diet, and physical activity :)
And to find out how to take the right steps before you even start taking supplements, visit our advice blog!
Also be aware that supplements are intended to be taken after your cancer treatment, not in conjunction with any other medication, including hormone therapy or other types of supplements. If you are in any of these situations and still wish to start a course of MÊME supplements, talk to your medical team first to check compatibility with certainty!