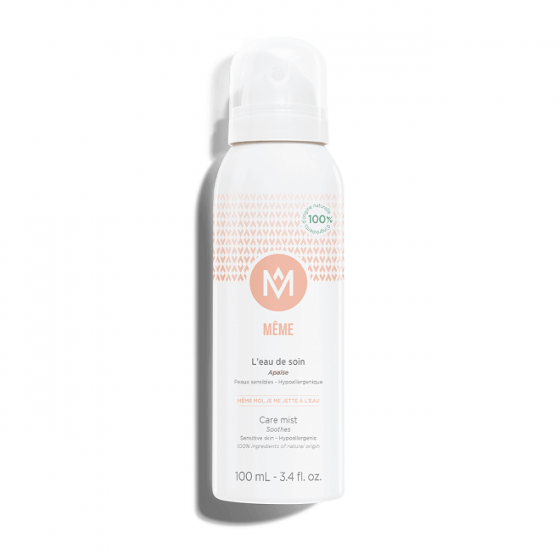 Care mist
Soothes / Cleanses / Protects
100% ingredients of natural origin
⭐ Rated "Excellent" on Yuka
Target
Sensitive or atopic skin
Heated skin, particularly from radiotherapy
Efficiency
Soothes itching and relieves discomfort and tightness of sensitive skin
Soothes burning sensations on the skin, particularly those resulting from radiotherapy
Protects the skin from dehydration and improves the skin's barrier function
Removes impurities, pollution particles and make-up residues from the skin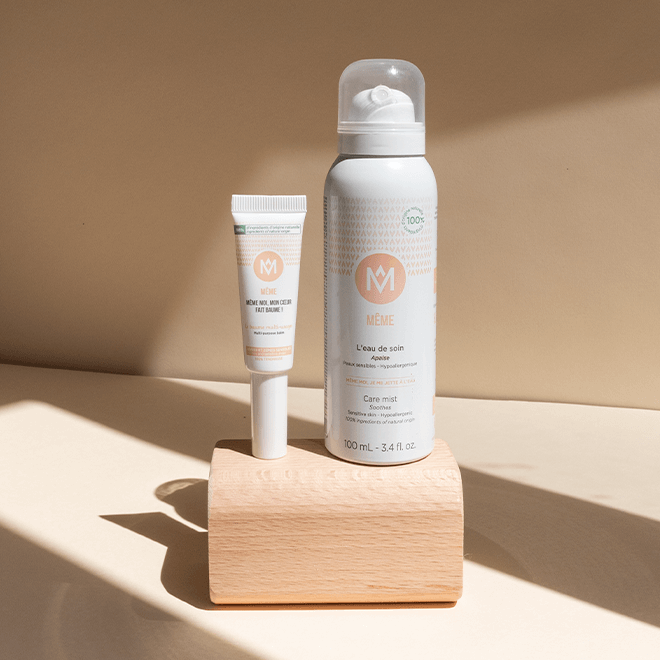 Description
A care mist with numerous benefits to help very dry and reactive skin.
In a single step, the Care mist soothes the itching of skin lacking in moisture, and relieves the discomfort and tightness of sensitive, reactive and overheated skin, particularly during cancer treatments, including radiotherapy. Multi-functional (some would even say "magical"), it provides an immediately soothing sensation of freshness, protects the skin from dehydration and improves the skin's barrier function.
Would you like even more? It brightens and evens out the skin tone for a radiant complexion, making it a real beauty product, in addition to its moisturising power! It is a great complement to the Face moisturiser , the Body moisturiser and the Multi-purpose balm.
Thanks to its negative ions, it has a cleansing power that allows the skin to be rid of impurities and pollution; it is therefore ideal for perfecting make-up removal, particularly as a complement to the Make-up remover balm.
Its bonus (yes, another one!): it does not dry out the skin and leaves it soft!
Its spray nozzle delivers a fine mist for an even application on the face, the bust or any other area of the body that needs softness and soothing. Like a thermal water mist (but much more powerful), its 100ml spray format is very practical for daily use. The Care mist is not part of the thermal water family, but is a completely new product, a real treatment for damaged skin.
It goes without saying that the Care mist is particularly well tolerated by even the most sensitive and reactive skin, it is hypoallergenic and fragrance-free! With its fine and very fresh mist, it is energizing in the morning and soothing at bedtime ;)
Much more than water, a real care product resulting from a patented technology to soothe and protect skin irritated by radiotherapy, among other things
Whether the skin on your body and face is heated by radiotherapy, dehydrated and damaged by chemotherapy or targeted therapies, or simply very dry or atopic and therefore reactive, it may sometimes need soothing and gentle care. The care mist immediately soothes burning sensations on the skin, especially those caused by successive radiotherapy sessions.
MÊME Care mist is ionised thanks to a patented technology. It is used by dermatologists and its benefits have been approved by the pharmacopoeia for many years. It is the result of over 50 years of research into "healing" waters in Japan. Recognised for its effectiveness in hospitals, it has been the subject of numerous scientific publications, particularly in the treatment of atopic dermatitis and burn.
This Care mist, charged with negative OH- ions, is also enriched with minerals, which give it all its properties: Silicon (10 different structures), Phosphorus, Magnesium, Calcium, Sodium and Potassium. The alkaline pH of this water is balanced on contact with the skin, ensuring perfect tolerance, even for the most sensitive and reactive skin.
To prove the effectiveness of our Care mist, we have conducted a use test and a clinical study whose results speak for themselves, you can discover them below:
SOOTHES :
- Gives an immediate sensation of freshness (for 97% of the volunteers)**
- Relieves signs of discomfort (95%)* and provides immediate relief after radiotherapy (100%)**
- Soothes itching (86%)* and discomfort or tightness due to radiotherapy (88%)**
- Skin is less sensitive (86%)*
- Respects the most sensitive and atopic skin (95% of volunteers)* and the areas irradiated by radiotherapy **
PROTECTS :
- Protects the skin (for 85% of volunteers)*
- Does not dry out the skin after application (90%)*
- Improves the skin's barrier function by +14%***
- Decreases skin water loss (100%)***
- Skin condition is improved (86%)*
PURIFIES :
- Gives the skin a boost and wakes up the face (86%)*, skin looks less tired (+57%)***
- Skin tone is brighter (+68%)*** and more even (54%)***.
- Skin texture is refined (for 91% of volunteers)*.
- Pores are less visible (48% reduction)***
- Skin is softer (91%), smoother (86%) and plumper (72%)*
* Use test carried out by MÊME on 21 volunteers with sensitive and atopic skin, for 28 days with an application at least twice a day on the face (including eyelids, lips, eye contour), neck and any other sensitive or uncomfortable area.
** Clinical study conducted by MÊME, in 2 radiotherapy departments (36 volunteers), for 28 days with an application at least twice a day (including once when leaving the radiotherapy room in the dressing room).
*** Measurement of the IWL (insensible water loss) and results observed by a dermatologist according to a before/after evaluation grid, during a use test with 22 volunteers with normal to dry and sensitive or mixed to oily skin, with imperfections, for 21 days, twice a day on the face.
Ingredients
Water
Moisturizes and soothes
Negative ions
Cleanse and purify
Minerals
Strengthen the skin barrier
100% natural, 100% effective alkaline care mist
100% natural, the Care mist has been charged with negative ions and enriched with minerals using patented technology.
Silicon (10 different structures), Phosphorus, Magnesium, Calcium, Sodium and Potassium are the precious minerals that give it all its wonderful benefits for your skin.
The Care mist is a fragrance-free product.
How do the negative ions in Care mist work?
The skin has an acidic pH (around 5.5-6, i.e. high in positive ions), so its surface is rather positively charged. When the alkaline mist is applied to the skin, a film of negative ions is deposited on the surface of the skin, which also covers and surrounds the impurities/pollution/make-up residue. Like magnets that repel each other, the "negative" film of alkaline water on the skin then drives out the impurities surrounded by negative charges. Also, like attracting magnets, the alkaline water film (negative) finds a perfect affinity on the skin (positive) and returns to equilibrium in a few moments, facilitating a good penetration of the minerals by the skin.
Run your mouse over the components to find out their source and function:
AQUA Source : Ionized water
Fonction : Soothes, cleans and purifies the skin, MINERAL SALTS Source : Minerals
Fonction : Strengthens the skin barrier and protects the skin
Usage tips
How to soothe sensitised skin with MÊME Care mist?
Morning and evening, and as soon as you feel the need, spray on the face, neck or any other sensitive or uncomfortable area. Very gentle, the Care mist can even be applied to clean, well-sealed scars.
You can also use it after the make-up remover balm to complete your make-up removal in a single step, for a perfect and revitalising facial cleansing.
By following our instructions for use, the time of use of our Care mist is estimated at:
50 days for a twice-daily application on the face
25 days for a twice-daily application on the chest or back
100 days for a twice-daily application on a small area (such as a localized, clean and properly healed scar)
Complete your beauty routine with the following products:
The face moisturiser and the body cream to provide daily moisturising, soothing and protection for even the most sensitive and potentially dry skin.
The cleansing oil for gentle cleansing: gentle surfactants, a physiological pH ( the same as the skin's), an ultra-rich formula adapted to the most sensitive and reactive skins
The make-up remover balm for gentle make-up removal and perfect cleansing!
What they think about it
bien ,rafraichit mais encore mieux avec un petit massage.
published the 06/10/2022 following an order made on 06/09/2022
Hydratante et rafraîchissante.
published the 01/10/2022 following an order made on 07/09/2022
Super reposante
published the 20/09/2022 following an order made on 25/08/2022