3

minutes de lecture
MÊME is a story about women, about illness and, most importantly… an encounter.

A GIRL THING
Everything started with the experience of my mum, who died with cancer 6 years ago. Despite how serious her illness was, my mum was a fighter, but also a real girly girl! My mum always loved clothes and cosmetics, but never as much as she did during her illness. A day or two never went by without her buying a new pair of jeans, a face cream or nail polish. At the start, I found it a bit excessive and superficial. And then I understood. I understood that it was her way of fighting the disease. Not looking sick, continuing to look good and boosting her self-esteem was her strategy for fighting against this "bad joke" for as long as possible.
It convinced me of one thing: recovering your femininity, that is altered so much by treatment, can really help you to be psychologically stronger to better fight cancer.
A STORY ABOUT ILLNESS
And yet, in reality, it wasn't easy at all. The worse the side effects of the treatment, the more specific her needs were and the more she looked for beauty products suited to her new problems… and the more tired she became. In the realm of beauty and skincare, where the choice for a healthy person is so extensive and appealing, it is so difficult to find products suited to women undergoing treatment. At the time, I used to think, "It's crazy that it's so complicated!".
3 years passed and I decided to use the end of my Industrial Design degree to turn my ideas into something more real. That is how I came up with MÊME, the first beauty product brand dedicated entirely to women with cancer, which would not only cater for their specific needs but be DE-SI-RABLE and feminine and in line with current trends.
My project was extremely successful during my final oral exam and several people advised me to take the plunge. But I would never have done it alone and, more importantly, I had another plan: to complete my end-of-studies internship in marketing development at L'Oréal Luxe. It had been one of my goals for a long time.
"THE" ENCOUNTER
It was at L'Oréal Luxe, in July 2014, that I met Juliette, a cute little redhead who had just finished Sciences Po (the Paris Institute of Political Studies) and HEC (one of France's top business school), who, like me, was doing her end-of-studies internship, also in marketing development. After just a few minutes, I can't explain why but I had told her everything about my project. I remember giving Juliette goosebumps! She had also been very closely affected by cancer: a number of women in her family had already suffered from the disease, which also struck her mum just a few months later. I didn't need to share too many details about the endless trials that cancer brings for her to feel completely concerned by the project.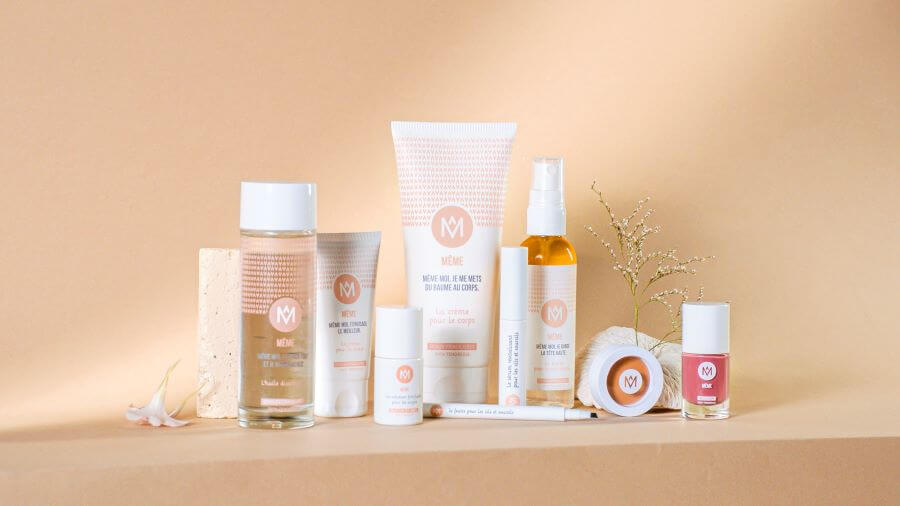 The MÊME range, 21 products developed for and by women concerned by cancer.
The story of Juliette and Judith is first and foremost one of mutual appreciation based on a cause that is extremely important to us, but it is also a friendship that is now unbreakable. This encounter is the kind you only have once in a lifetime and for that, and despite everything else… I thank life because it brought her to me :).
Today, we are twenty in the MÊME team and we have worked relentlessly to produce our products as quickly as possible. The adventure continues thanks to you, so that together, we can make things happen and continue to constantly improve the quality of life of the women who need it most.
To all those stars watching over us: Caroline, Fabienne, Sabrina, Zazie and Yan. We hope that you are proud as you look down on us. 💕