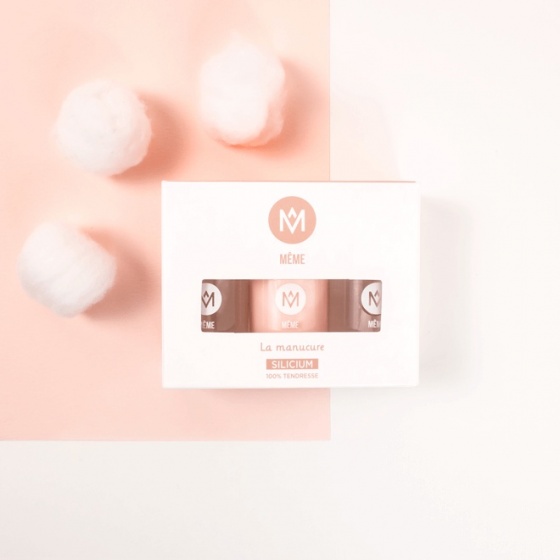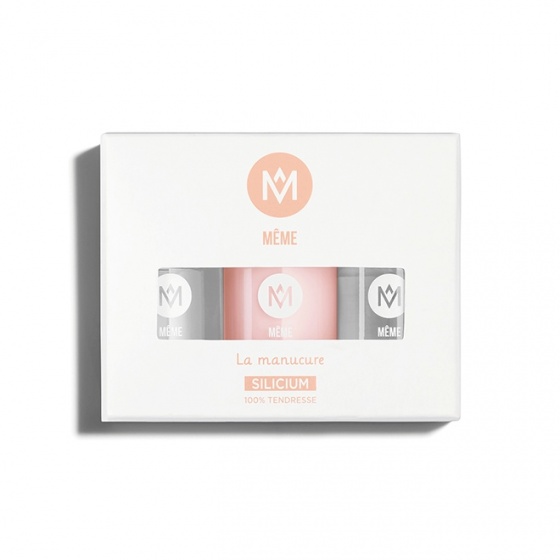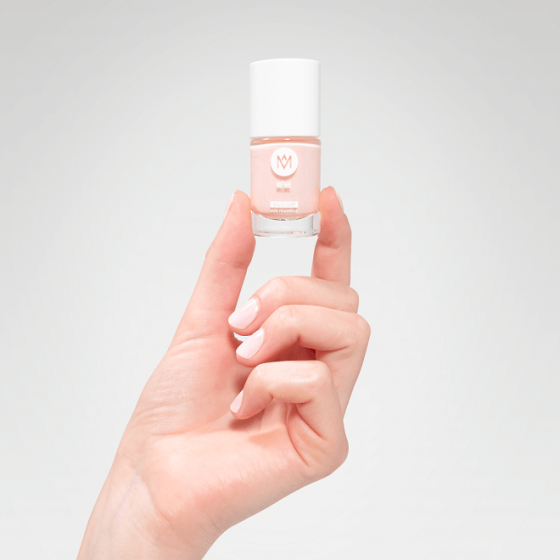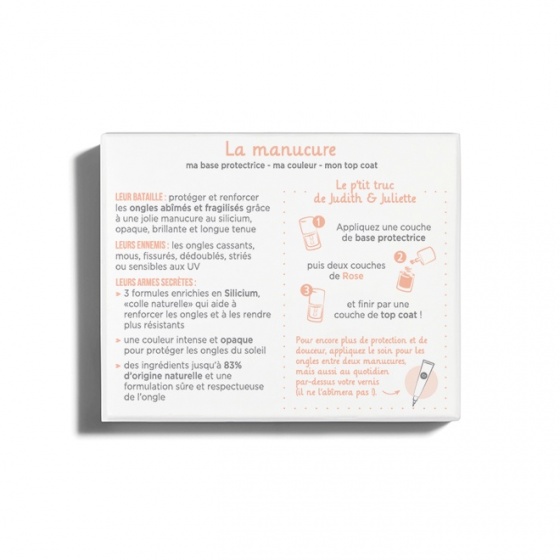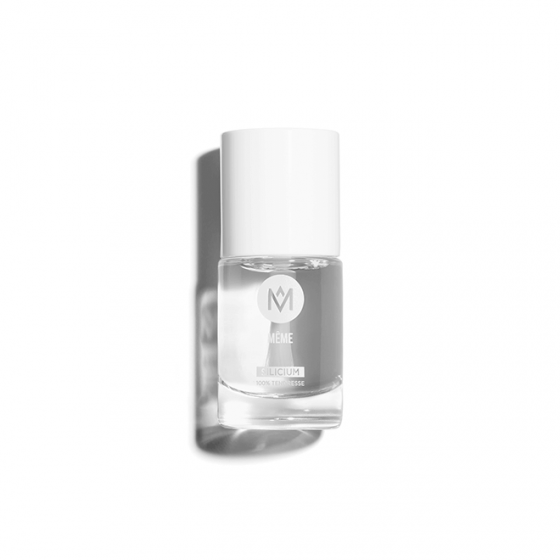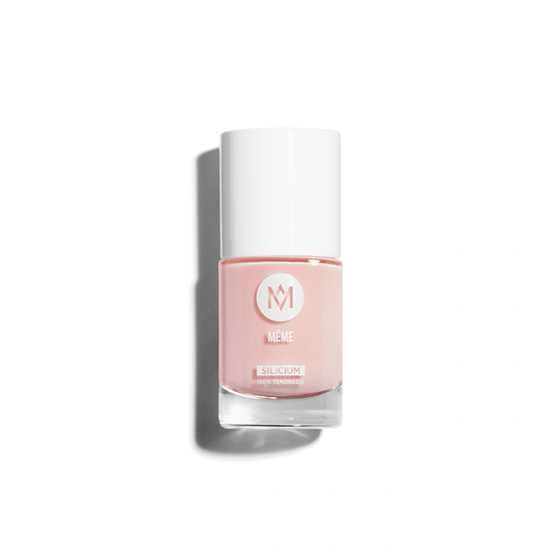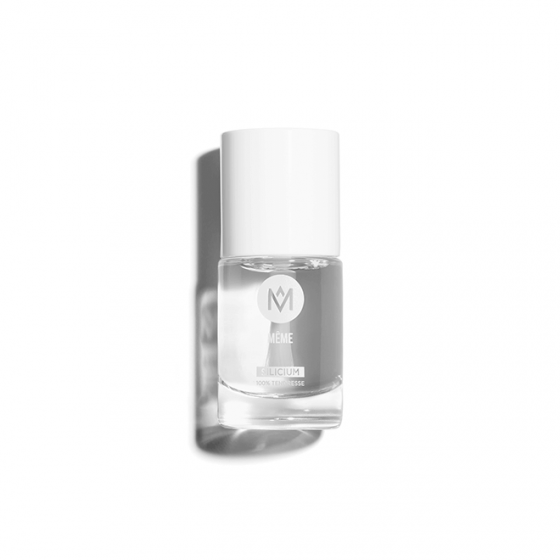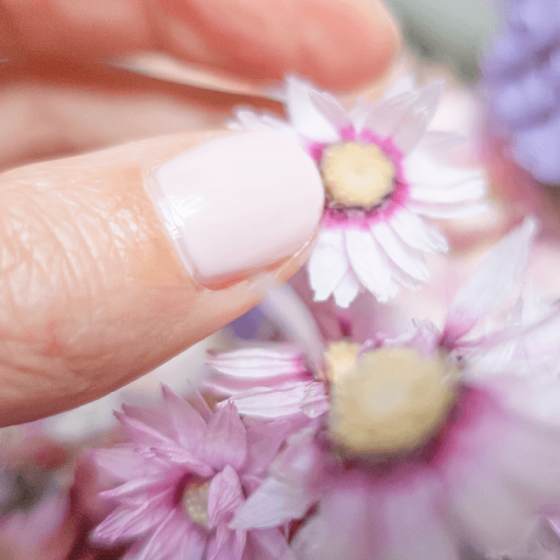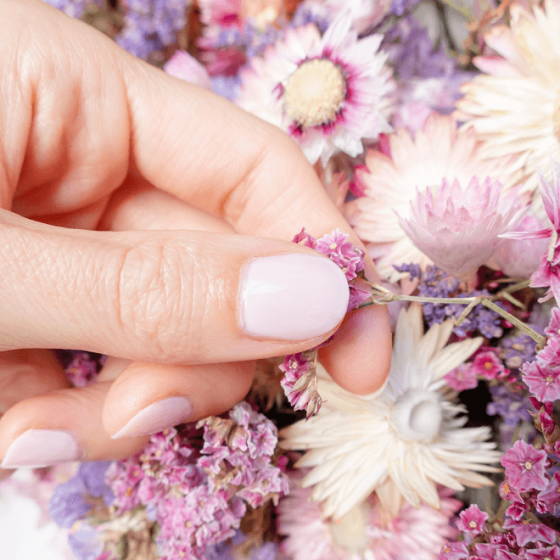 The Pink Manicure
Respectful / Opaque / Long lasting
Up to 83% bio-sourced formulas
⭐ Rated Excellent on Yuka
Target
All kinds of nails, including fragile, ridged and splitting nails
Why we love it
3 nail polishes for a perfect plum manicure 
Protective nail polish enriched with silicon 
More than 80% bio-sourced formulas
Delivery all over Europe
With lots of tenderness
2 free Samples for any order
Description

The Pink Manicure is composed of 3 nail polishes: a Base Coat, A Pink Silicon Nail Polish and a Top Coat. 
To protect the little weakened nails from side effects that threatened them (breakable nails, soft, ridged or blackened by UV rays), it is best to to wear a pretty manicure! And we chose it with Silicon and colored to harden your nails (thanks to the Silicon) and protect them from UV rays (thanks to its opaque color). 
Our Pink Manicure contains all you need for a perfect manicure: 
      The Silicon Base Coat to nourish and strengthen your nails
      The Pink Silicon Nail Polish to color and harden your nails
      The Top Coat to perfect and prolong your manicure while protecting your nails
Applied in 2 coats, the Pink Silicon Nail Polish is perfectly opaque to protect your pretty nails from UV rays side effects and camouflage the little imperfections of your nails. 
Ingredients
Formulated "10 free" (without Benzophenone, Toluene, Formaldehyde (or its resins), Phtalates, synthetic camphor, Paraben, Rosin, Xylene, Styrene, heavy metals), our nail polishes respect your nails and contains more than 80% natural ingredients known for their efficiency. 
To know the ingredients list of these products, click on the links below : 
The Base Coat
The Pink Nail Polish
The Top Coat
Usage tips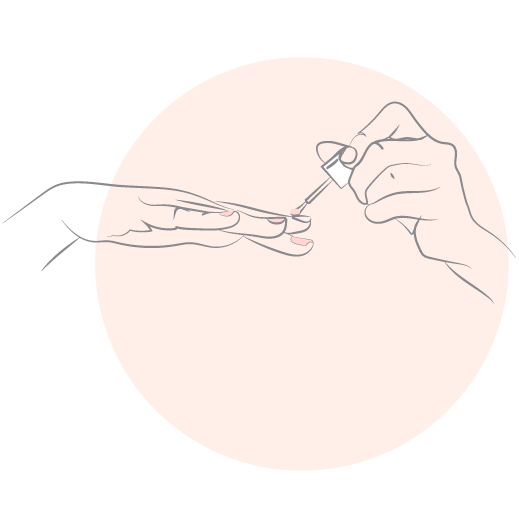 Judith et Juliette's special tips
Apply one coat of Base, then two coats of Pink Nail Polish, and finally one coat of Top.
Complete your routine with the Nail Care Pen !
You can also apply it on your coloured nails. (It won't damage your manicure).
Please consult your doctor if your nails are too much damaged or painful.
What they think about it
Top !
published the 08/10/2020 following an order made on 21/09/2020
Il faut mettre plusieurs couches du vernis coloré pour avoir un résultat satisfaisant.
published the 24/07/2020 following an order made on 06/07/2020
Comment from MÊME the 06/08/2020
Bonjour Nathalie, En effet, nous conseillons de mettre deux couches de vernis afin d'avoir la couleur et tenue désirées :) Avez-vous besoin de plus de deux couches ? Tendrement, l'équipe MÊME
Show exchanges
Hide exchanges
Très bon produit et surtout facile à appliquer pour moi qui ne mettait quasiment pas de vernis avant
published the 05/11/2019 following an order made on 18/10/2019
You might also like
Soothes / Nourishes / Hydrates
Repairs / Soothes / Nourishes
Removes / Respects / Nourishes