In 2023, we are creating LILAC FEBRUARY, to call on brands to commit to fight ALL cancers, ALL year round.
By founding MÊME, it was obvious that we wanted to make our contribution to the fight against cancer through our company. Firstly, by providing a real solution to improve the quality of life and the skin of patients who have to endure heavy cancer treatments. But also by supporting institutional initiatives and ESPECIALLY cancer research, which has already caused so much damage to our families and those of many members of our team.
This is the reason why, since we first started and despite the youth of our company, we donate 1% of our turnover to UNICANCER, the first European hospital network of dedicated cancer centres.
For the past 6 years now, we have seen an increasing number of brands and companies taking initiatives during Pink October in support of breast cancer awareness and research. These initiatives have our full support, but unfortunately sometimes make us forget that there exist a multitude of other cancers that are not talked about enough, and that cancer, for those who live with it in their flesh or with their loved ones, is unfortunately not only in October, but all year round.
For all these reasons, we are encouraging all brands to join us and to commit themselves to the fight and research against all cancers by creating a movement: Lilac February.


COMMITTING TO LILAC FEBRUARY

During all or part of February 2023, or even the rest of the year, participating brands commit to supporting a cancer research institution or charity. And because every contribution counts, and every story can have an impact on the initiatives that affect us deeply, companies that have joined the movement are participating in the way that suits them best, by supporting the cancer charity or patient support organisation of their choice.
At MÊME, in addition to our annual commitment to Unicancer, we will be promoting Lilac February in our partner pharmacies, on our social networks, on our website and in the press, and we will mention all the brands that join the movement. We obviously encourage brands and people to spread the movement as much as possible, hoping that it will be the first of many to come.


WHY FEBRUARY? AND WHY LILAC?

We wanted to seize the symbolism of February 4th, World Cancer Day, to initiate a solidarity movement that we hope, will extend far beyond that day and that special month.
Besides, Lilac colour is the colour of the ribbon symbolising the fight against all cancers. A colour which reminds us that all cancers, even those that are not talked about enough, even those that are sometimes considered as "small" cancers, even those that are subject to certain taboos, must be fought together.
Many companies are already doing great things to fight cancer, often on a bigger scale than what we can do at MÊME. And the idea is not to blame those who are not doing anything or who are only targeting their action during Pink October, as this month is an important one.
The #lilacfebruary campaign is a call for one more virtuous action. More than just a month or a colour, it is about a commitment, and a lasting and honest commitment, from all the companies that would like to join us and play their part.

Because there is still so much to do for the ones who need it the most, and because it is together that we can go further, and faster to reduce the disease.

Judith & Juliette, co-founders of MÊME and their team.

BRANDS COMMITTED TO LILAC FEBRUARY
MÊME ⋅ Venus & Gaïa  ⋅ Sans complexes Lingerie ⋅ TALM ⋅ Choose ⋅ Bliss ⋅ PigeonCoq ⋅ Laboté ⋅ Les Franjynes ⋅ Gapianne ⋅ Oncovia ⋅ Maison Jeanne ⋅ 1001 Perruques ⋅ Mikamino ⋅ Atelier Gigogne ⋅ HoKaran ⋅ Les Minettes en Goguette ⋅ En Cavale ⋅ Jolimoi ⋅ Editions Imaginaires ⋅ Nénés Paris ⋅ Oly Be ⋅ La Picorée ⋅ Dermina ⋅ Esseintielles ⋅ Cocoeko

CHARITIES AND INSTITUTIONS SUPPORTED
Unicancer ⋅ Institut Curie ⋅ Ruban Rose ⋅ Ligue contre le Cancer (Nord) ⋅ La Fourchette Rose ⋅ Sourire à la vie ⋅ Institut Gustave Roussy
IN FEBRUARY, WEAR YOUR COMMITMENT'S COLOUR

Because so many of you have already asked us how to support Lilac February on your own, you should know that simply talking about it around you is already a huge step: talk about the Lilac February, talk about commitment, talk about the charities that have helped you or your loved ones. It is by word of mouth, and by involving as many people as possible around you that things can progress step by step.

And to make it easier to talk about Lilac February, and for it to be the perfect ice-breaking conversation topic, throughout February, we invite you to wear the colour of your commitment by offering you one of our famous silicon nail polishes in Lilac colour for every 2 MÊME products of your choice purchased. This offer is available on our online shop and in our participating points of sale*!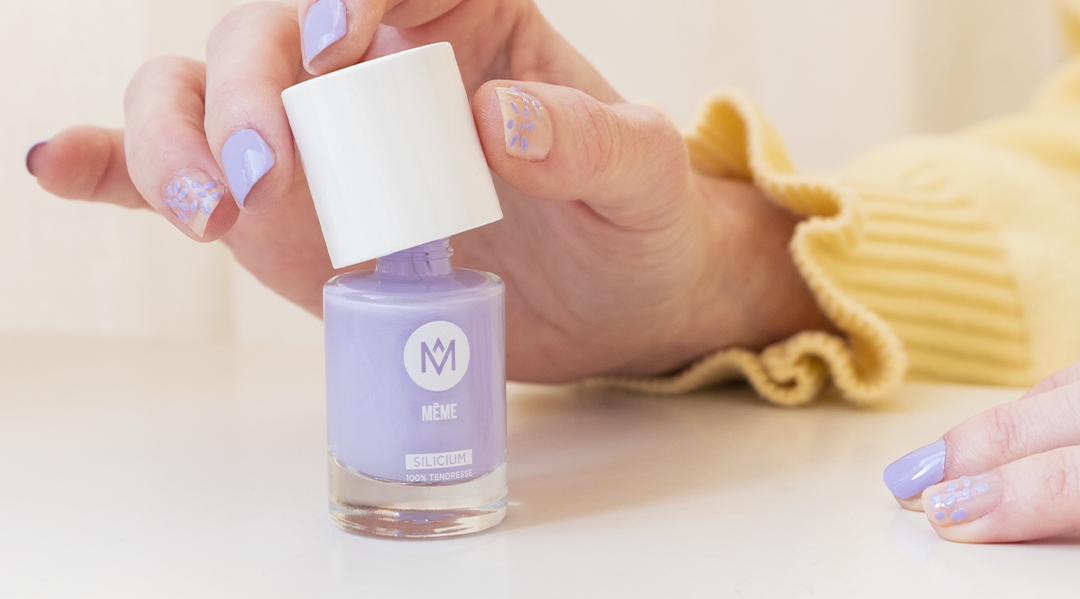 *Effective from 2 MÊME products purchased, excluding the base coat, silicon nail polishes, top coat, gift cards and gift bags, travel sizes, accessories and gifts for purchase. Offer subject to availability.