Orange nail polishes
From a pastel orange to a beautiful blood orange colour, by way of a coral orange, or the softness of a white peach nail polish: orange nail polishes have this incredible power to give us a positive and stimulating energy throughout the day!
Always "10 free", with an ultra safe formula that is up to 80% natural origin and enriched with Silicon for a perfect manicure that takes care of damaged or fragile nails with a maximum respect for your health.
Rigorously selected
ingredients
Clinically tested
on people on cancer treatment
Safe and healthy products
made in France
Created in collaboration
with our clients
Respectful / Opaque / Long lasting
Orange nail polishes: healthy and safe for your health
Because nail polishes are not always the most suitable cosmetics for caring for your skin and your body, at MÊME we have formulated them with an extreme degree of vigilance, in order to keep the pleasure of putting a touch of colour on your nails while respecting your health.
They are also perfect for those who need to wear nail polish to strengthen and protect their nails that have been weakened by, in particular, cancer treatments, while paying attention to the composition of the care products they use on a daily basis.
A bio-sourced, vegan and 10 free orange nail polish
A silicon-enriched nail polish that protects against UV rays
When you have fragile, brittle, ridged or split nails, using a silicon nail polish can help strengthen your nails and make them more resistant. It is also important to protect them from the sunrays! This is why our orange silicon nail polish, like all our nail polish colours, are perfectly opaque and therefore mechanically protect against UV rays as soon as you apply two coats!
Orange nail polishes for pregnant or nursing women
Thanks to their very safe formula, our nail polishes are even suitable for pregnant or nursing women! Ideal for people for whom nail polish is a way of remaining feminine through and through, even when they are getting ready or have just become mothers!
And if they are suitable for pregnant women, you should know that our nail polishes, like all the products in our range, are also perfectly suitable for men!
All the secrets for a perfect orange manicure
To finally be able to start your manicure with confidence (and even for the result of the right hand), discover our tips for a successful orange manicure.
1. A protective silicon base coat to help you get started
After having carefully prepared your nails by filing them into the desired shape and gently pushing back the cuticles, start your manicure with the essential silicon protective base coat to protect your nails from colour and to strengthen ridged or weakened nails.
2. Apply a first coat of orange nail polish, and then a second!
By applying two coats of your favourite orange nail polish (coral? blood orange? fluorescent orange or orange-red?), you can ensure a perfect opacity that screens out UV rays and you will also have a rich and very consistent colour!
How to apply your nail polish without any trouble? We show you everything in this little drawing!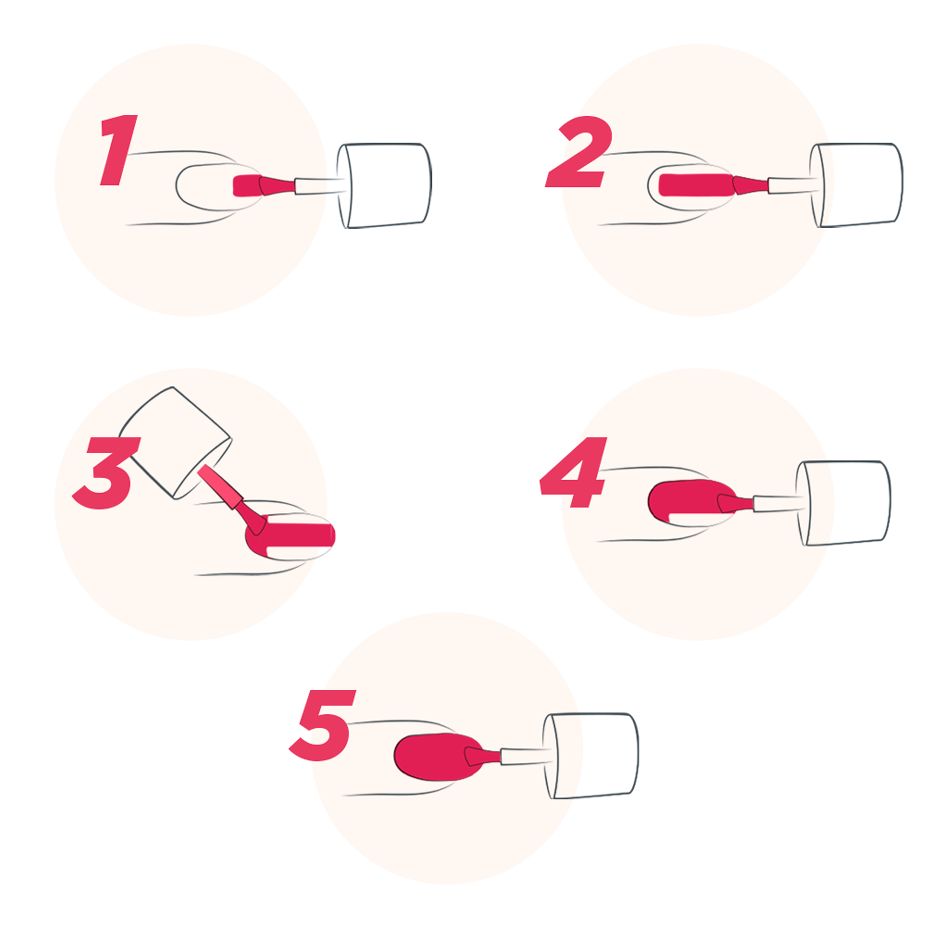 3. A top coat to protect and shine
And as a fourth and final coat? Apply a silicon top coat! It is essential to extend the life of your manicure (and so avoid having to redo it the next day), and to give your orange polish a shiny finish!
4. The drop that prevents many worries
Finish off with a drop of the nail polish drying oil the little touch of magic that will change the life of all those who don't have the patience to wait for their nail polish to dry or who tend to ruin a nail as soon as their manicure is finished! A drop of nail drying oil on each of your nails as soon as you apply the top coat, and you'll cut the drying time in half and avoid a lot of worries.
Our bonus tips for healthy nails!
Once you've opted for your bright orange manicure, there are still a few things you can do to take care of your nails.
For those with very damaged or painful nails, apply our silicon nail care pen over the entire nail (even varnished) and cuticles and massage it in. It immediately soothes pain and discomfort while nourishing and strengthening the nail at its base for healthy regrowth!
Use gloves for all your manual activities: gardening, cleaning, etc... This way you protect your nails from external aggressions, and you ensure a perfect manicure that lasts longer ;)
Don't cut your nails (and in particular not your cuticles) but instead file them to give them the desired shape and keep them rather short, to prevent them from breaking!