7

minutes de lecture
Preparing for a hospital stay is almost like going on vacation (although not as nice, we'll grant you that…): you must be well organized to avoid forgetting too many things as much as possible! 
To begin, a small memo of the to do's the week before your hospitalization
First, remember to reread the information that you will probably have received from the care services that will welcome you. This will allow you to prepare your arrival at the hospital as well as possible without any additional stress: food / taking treatment the day before, shower, shampoo, varnish, contact lenses, special diet to report… In case of doubt, do not hesitate to contact the establishment.
If you would like a single room, take advantage of this call to let them know. This may give them an extra chance to satisfy your request. Don't forget to ask for the cost and to warn your health insurance company to inform them of your hospitalization: they will then tell you the conditions of their care and you will avoid unpleasant surprises… no need for that!
– If you cannot be accompanied by one of your relatives for your arrival, do not hesitate to ask about the possibilities of organizing your transport.
– If you live alone, remember to entrust your keys to a relative or someone you trust in case, despite our great List, you have forgotten a little something 😉 Or simply to retrieve important mail that arrived in your absence, for example.
– Also remember to check what's left in your fridge, so that you only keep products that have an expiry date that can wait until you return. Leave enough food in the fridge to allow you to prepare breakfast and a few meals on your return, without having to go grocery shopping.
Regarding the administrative aspects, don't forget to gather…
– All the elements of your medical file (echoes, scans, MRI, mammograms, CPR reports, etc.).
– Your certificate and/or health card, and health insurance
– An identity document
– A means of payment
– A small notebook (or sheets of paper) and a pen to write down certain information: next appointments, dates and results of tests, examinations, questions to ask when the doctor comes… (You can also write down all your ideas, desires, emotions, so that you can clear your head even when you are alone).
– The telephone numbers of your family members and close friends so that you can reach them in all situations, even with the hospital telephone (by the way, remember to inform your family or usual contacts of your hospitalization dates so that they don't worry if you don't answer).
– A bit of change for the vending machines, newspapers…
– Stationery, envelopes and stamps if you are thinking of sending news to a loved one or responding to mail.
Like in my bathroom
– Towels that smell like the laundry at home!
– A washcloth, useful to wash your face after an operation, while waiting for the authorization to take a real shower!
– Disposable tissues, and cotton (like make-up remover cotton pads).
– Gentle cleansing wipes to wash yourself a little from your bed, in case you have difficulty moving around. They are also very pleasant and refreshing during the day (it is often hot in hospitals). There are wipes for the whole body (like baby wipes), but also more specific versions for hands, face, feet, private parts, etc…
– A very soft deodorant (why not an alum stone?) to smell good while respecting your fragile skin.
– Your toothbrush and your toothpaste (of course!)
– A spray of thermal water to refresh your face.
– A gentle, soap-free shower product
– Your ultra-moisturizing body cream
– Your favorite day cream for a soft face.
– A chapstick for maximum comfort
– Products to deeply nourish your hands and feet, which are often damaged or dry during the treatments. You can pamper yourself with small hand or foot massages that will bring you well-being and will also allow you to occupy sometimes long days…
– A moisturizing/reinforcing product for the nails, one (or more!) nail polish, a mild nail polish remover without acetone, a file, in short, the little kit you'll need to pamper your nails after an operation.  Note that some treatments can weaken the nails, so polish is often indicated to protect them. And there you have it, another nice occupation during your "free time" in your hospital room!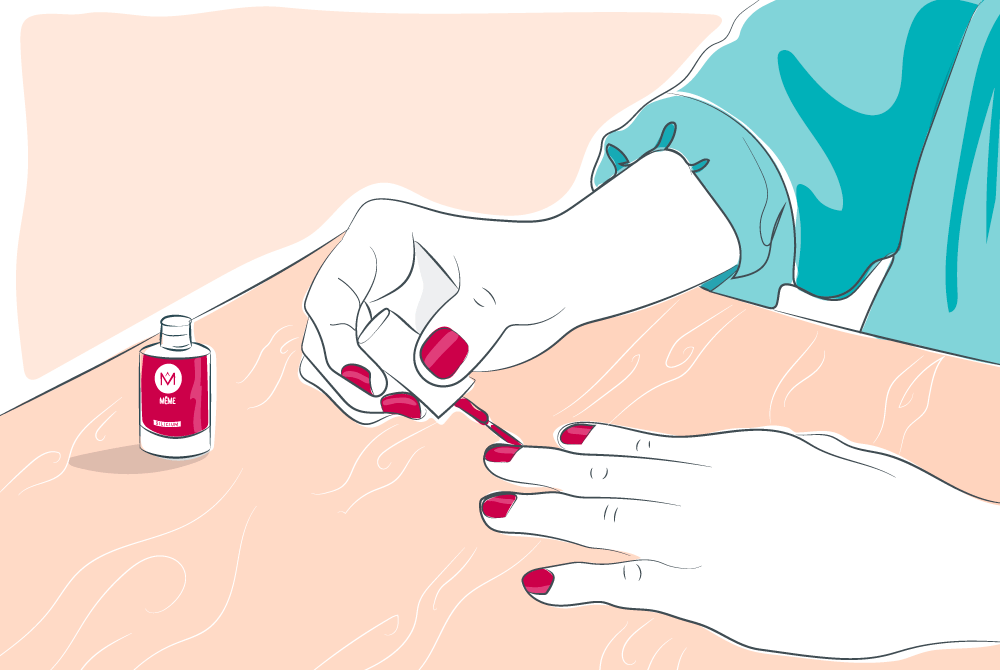 – Make-up for the complexion (powder, concealer, BB cream, a blush, …) to "rebuild" a beautiful and healthy glow.
– A pencil and a little eye make-up, enough to redraw your eyebrows, a small lip balm or lipstick (rather discreet) that will allow you to enhance your complexion: taking care of yourself and wanting to make yourself "pretty" will necessarily contribute to your well-being, especially while you receive visitors (caregiver, family or friends …).
And for clothes and accessories?
– Soft pyjamas or a nice nightgown to make you feel beautiful and comfortable in all circumstances both day and night. (Please note that depending on the type of operation, special clothing is sometimes requested (nightgown with buttons in front or other…) These details will be given to you before your hospitalization).
– Men's shirts: in addition to being pretty, they can be very practical, especially for breast operations because they are wide for bandages and open at the front.
– Nice, soft (and easy to put on) slippers.
– If your suitcase is not too full, a nice light bathrobe is always useful.
– And for the rest, aim for maximum comfort with "home wear" outfits: leggings or wide trousers for the bottom, loose and thin t-shirts, light jumpers that are easy to put on, good pairs of socks, a pair of super comfortable tennis shoes or ballerinas… so that you can get some air and leave your room in comfort mode!
– If the treatments have caused you to lose your beautiful hair, and unless otherwise advised by your doctor, you will probably be able to wear your precious "second hair" for the days following your operation. Don't forget the precious little seamless cotton or bamboo caps that are super comfortable day and night! Note that in sterile rooms, some hospitals may require you to wear 100% cotton caps (resistant to washing at very high temperatures).
– You can also bring light and comfortable turbans for the day, or even light caps, for a little bit of style in winter 😉
– If you usually wear contact lenses, don't forget to bring your glasses.
– And to feel almost "at home", you can bring your pillowcase and why not a small bathmat (like a thick towel) for a little extra comfort when you wash up!
– A small bag for dirty laundry to give to your family and friends when they visit you.
– Earplugs and a travel mask can sometimes be useful to isolate yourself from the noise (double room with television are sometimes noisy) and prevent the light from bothering you while resting.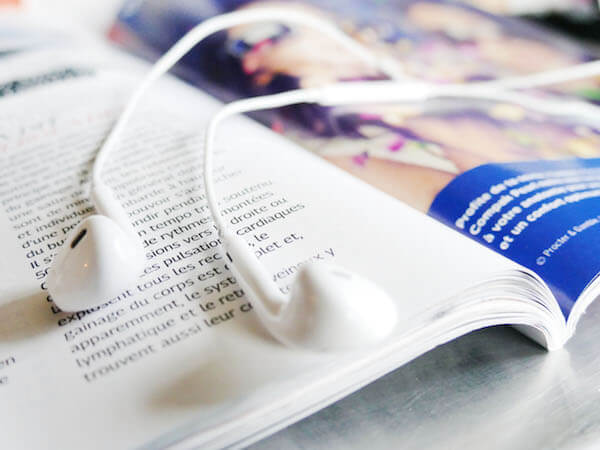 A bit of relaxation and tranquility
– If you don't need to follow a special diet, you can take some of your favorite biscuits or other delicacies in your bag: nothing better to give yourself a little break and get back on track!
– Bottled water: it is regularly served in jugs in many establishments. However, if you drink special water for special tastes or diet, you can bring one or two bottles (unless otherwise advised by your doctor).
– Your mobile phone and charger. Note that you may be asked to turn it off when you enter the room, so as not to disturb medical devices that operate with electronic systems, and that if you are in a shared room, you must obviously respect the rest of each person by avoiding long conversations that could be disturbing.
– Magazines or books, it could be your chance to start the big book that has been put aside since the beginning of the treatments? 😉
– Your tablet or your computer (+ a 3G key in case the hospital is not equipped with wifi) + a security cable to avoid theft as much as possible. And to complete this equipment, stock up on DVDs or download (happy!) films beforehand to make your stay in hospital a little less unpleasant.
– A portable game console (if you're a fan) can also become your relaxing ally. Otherwise Candy Crush will also do the trick 😉
– Writing or drawing materials (sheets of paper, art therapy type sketchbook, colored pencils, etc.) are also very useful to let your creativity express itself and to fill the days.
– A small board game for two (cards, trivial pursuit, checkers…) if you share your room or to have a good time with a friend who has come to visit.
– An mp3 player, headphones and charger: you can listen to your music at any time and without interruption. If you don't have an mp3 player, you can use the playlists on your phone (Deezer type), playlists that you can prepare by customizing them. You can also find, via apps on your mobile phone or your computer, the websites of almost all the radios you can listen to. You just need to make sure that the hospital will be able to give you access to an internet network via a Wifi code (ask the nursing team)!
– Otherwise a good old radio with a headset will be perfect. It will allow you to relax to your favorite songs while avoiding disturbing the peace and quiet of the other patients.
And there you have it, your bag is ready! This list is certainly not exhaustive but will help you to calmly prepare your hospitalization.