4

minutes de lecture
Because you need to take care of your wig as you did with your hair, MÊME has collected for you all the tricks to take care of it and keep it beautiful and in good condition for as long as possible!
Brush it!
…every night! Comb your wig with a brush soft enough not to damage it. This will remove a good part of the dust or other small particles that have landed on your wig… and that have nothing to do there!
Never brush your wig in one go: always start with the ends of the hair and move your way up to the roots. We can use a special brush (made of boar hair).
Clean it!
Ideally, wash it about once every 2 weeks after having untangled it a little with a wide comb, or simply with your fingers! But make sure to also trust your feeling: your wig will need to take a little bath more or less quickly, depending on how long you've worn it, your exposure to pollution, bad smells, etc… To limit the number of washes and thus keep it as new as possible for as long as possible, the trick is to wear an under-cap that you wash in the evening before going to bed.
Be careful to adjust the washing method to your wig, which can be made of synthetic or natural fibers:
Washing your synthetic fiber wig:
Come on, grab a shampoo and get going! If you can, invest in a "special wig" shampoo, but a classic mild shampoo will also do the trick. Our advice : rather than washing your wig as you would do with your own hair, put a small amount of product directly into a bowl of fresh water and plunge your wig into it for 10 to 15 minutes ! Shake it gently from time to time. You can even pamper your hair and give it softness and shine by applying a care product (conditioner, regenerating balm…), that you should spread from roots to ends.
Afterwards, rinse it out with care, always with cold water and from the roots to the ends! This is very important to avoid damaging or greasing the wig too much with the leftover product.
Then GENTLY dry your wig 😉 Wrap it in a terry towel and dab without rubbing to absorb the excess water. Avoid twisting and folding it at all costs. Finally, you can put your beautiful clean wig on your wig holder, if you have one (if not, a shower head can also do the trick!). However, avoid polystyrene heads which can cause mold.
Either way, let it air dry naturally. And if you're really impatient to put your beautiful wig back on, you can gently dab it with a terry towel to make it dry a little faster. Most importantly, don't use a hair dryer! Despite the strong urge you might have to put your beautiful hair back in place, please wait for it to be SUPER DUPER DRY. The trick: shake it out a little to give it volume.
About the shape of your wigs: the ones made of synthetic fibers will return to their original appearance on their own. If our wig had nice curls, don't panic, they will re-form by themselves when drying 😉
Washing your natural fiber wig:
The must: take it to the store for a professional cleaning… But you must be prepared to pay the price (about 30-40 euros). Otherwise, proceed in the exact same way as for a synthetic fiber wig, but this time using lukewarm water.
Afterwards, you will have to style them to give them back their look and shape (again, wait until they are dry before styling them). Be creative and use your hairdressing talents! 😉
And while you wait for it to dry?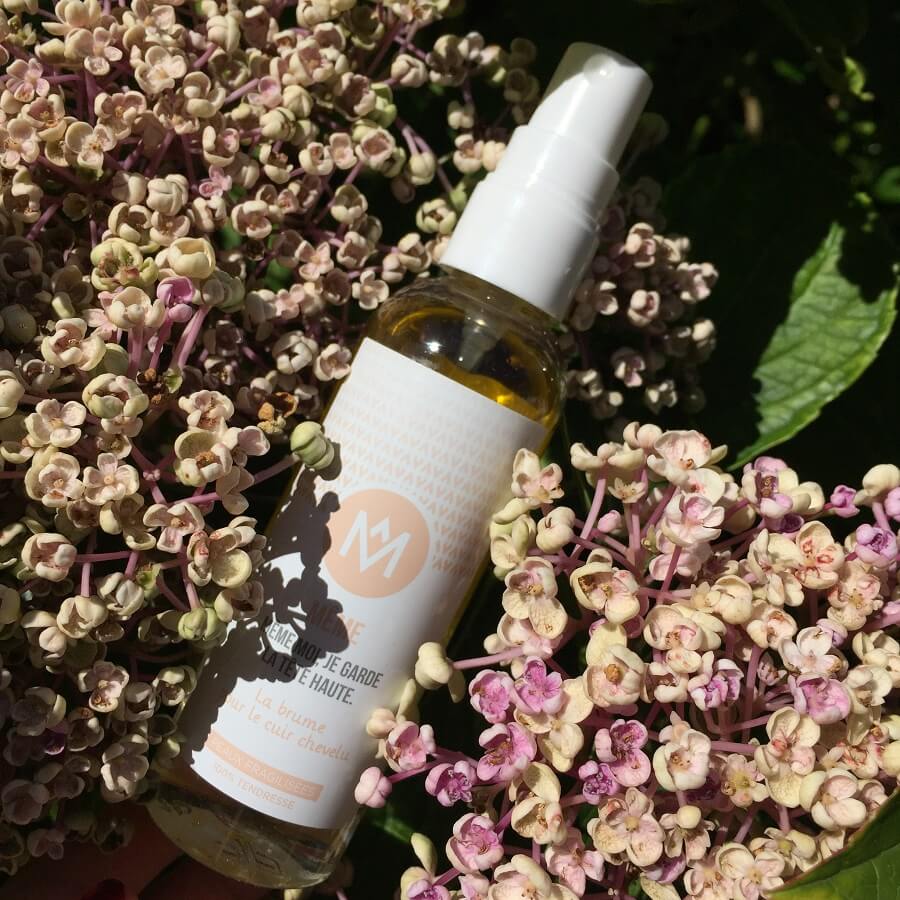 MÊME Scalp Mist, €25
While waiting for your beautiful hair to dry, give yourselves a little moment of pleasure by massaging your scalp… with our little scalp mist to moisturize your skin damaged by treatments! In addition, massaging your scalp stimulates blood microcirculation, which mechanically helps the regrowth of your precious hair! It has ONLY advantages 😉
Your wig's ennemies (completely forbidden) 
Gel, lacquer, color bombs : they make it dirty!
For synthetic fiber wigs : heating curlers, curling or smoothing irons: they burn it!
For storage…
After wearing your wig, let it breathe for a few hours, with the cap facing out. Then put it away! Your wig is a nest for dust and mites, so you should store and protect it safely.
The best way to keep the beautiful shape of your wig is of course the wig holder or a mannequin. Otherwise, you can also store it flat in its box.
Our last tips
No swimming with it, neither at the pool nor at the beach… Replaced by a light scarf or a nice summer hat.
At night, take it off of course (because like us, our dear wig needs to rest) 🙂
Protect yourselves from sources of strong heat, because they damage it! So think about removing or protecting it when cooking and avoid getting too close to a lighter, a candle, a barbecue, an oven, and even boiling water steam…
Because our wig can be our most precious ally for preserving our femininity when we lose our hair, but also because it represents a real investment for everyone, it deserves all the attention it can get!
It's up to you to take care of it and keep it as beautiful as possible! And above all, don't worry: as soon as your hair is ready to grow back, your beloved wigs won't slow down its growth 😉